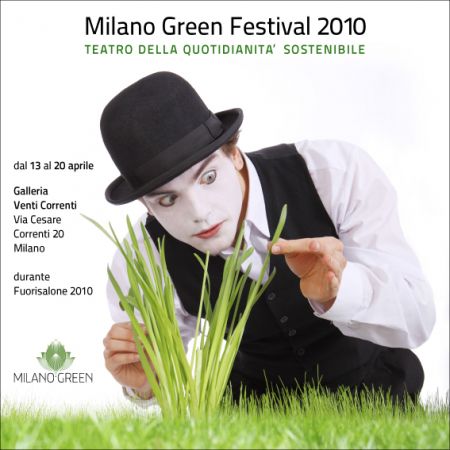 F

uorisalone Milano Design Week 12-17 aprile 2011
Dopo le edizioni 2009 e 2010, Milano Green Festival torna al Fuorisalone con un programma articolato di mostra, eventi e incontri. Con questi messaggi chiave: facciamo attenzione all'acqua, risorsa preziosa e scarsa; moltiplichiamo le strategie di mobilità sostenibile per la città; valorizziamo al massimo il recupero di materiali e di oggetti; trasformiamo i nostri comportamenti di consumo per creare insieme la città eco-positiva. Una città capace di generare risorse naturali ed energia.
da martedì 12 a domenica 17 aprile in mostra all'Appartamento Lago, Via Brera 30
Installazione Jelly Fish Farm -
Risorsa
acqua
in primo piano: prototipo che sfrutta il processo di desalinizzazione dell'acqua marina per la coltivazione di orti galleggianti,
Studio Mobile, San Donà di Piave, Venezia
.
Installazione Bicyclops -
La bicicletta porta un suono nuovo in città. Elogio della
mobilità soft
,
Sonic Furniture, Milano
(visite guidate per l'ascolto di biciclette "in coro")
giovedì 14 aprile, Teatro Franco Parenti, Via Pier Lombardo 14, Sala 3
Ore 19.00-20.00
,
Martine Parise
,
Metronda//Martine Collection
, sfila la
moda green-chic
(borse realizzate con scarti di pavimentazione in pvc bollato, ovvero l'
arte del recupero
)
Ore 20.30-22.00
,
Oreste Sabadin
,
Co-change
, Trasformare le cose per creare insieme la sostenibilità. Gioco-laboratorio per sperimentare il cambiamento (esplorazione acustica tra vecchi oggetti recuperati e valorizzati)
venerdì 15 aprile, Appartamento Lago, via Brera 30
Ore 10.30-13.00
,
Presentazione
Progetto Bicyclops
,
Sonic Furniture
(Paolo Lupotto, Gadi Sassoon, Roberto Vernetti): idee a supporto di strategie di mobilità urbana sostenibile
Ore 12.00-13.00, Giovanni Scafuro, Forkeat, La creatività applicata a sostegno del cambiamento, ovvero fare di più con meno
Ore 17.30-19.00
,
Nuovi consumatori per la città eco-positiva
, incontro con
Cristina Gabetti.
Partecipano al dibattito Sandro Antoniazzi (Cascina Cuccagna), Gianandrea Barreca (Gruppo A12), Primo Barzoni (Palm), Giovanni Falsina (SEA Aeroporti Milano), Giovanni Lanzone (Domus Academy), Liliana Merlo (Federcasalinghe), Francesco Morace (Future Concept Lab), Lucia Moreschi (Movimento Difesa del Cittadino), Giovanni Petrini (Fa' la cosa giusta), Cristina Rapisarda Sassoon (Milano Green Festival)
Ore 19.00-22.30, Milano Green Party
After the editions 2009 and 2010, Milan Green Festival returns to Fuorisalone with a varied program of exhibitions, events and meetings.
With these key messages: we pay attention to water, a precious and scarce resource, we multiply the strategies of sustainable mobility for the city to maximize the recovery of materials and articles; transform our consumption patterns together to create the eco-city
positive.
A city can generate natural resources and energy.
from Tuesday 12 to Sunday, April 17 show in the Apartment Lago, Via Brera 30
Installation

Jelly Fish Farm

- Water Resource Spotlight: prototype that uses the process of desalination of sea water for the cultivation of floating vegetable gardens, Office Mobile, San Dona di Piave, Venice.
Installation

Bicyclops

- The bicycle brings a new sound in town.
In praise of soft mobility, Sonic Furniture, Milan (guided tours for listening to bicycles "in chorus)
Thursday, April 14, Teatro Franco Parenti, Via Pier Lombardo 14, Room 3
19.00-20.00, Martine Parise, Metronda / / Martine Collection, pull the green-chic fashion (bags made from scraps of flooring pvc branded, or the art of recovery)
20:30 to 22:00 hours, Oreste Sabadin, Co-change, transforming things together to create sustainability.
Game-laboratory to test the change (acoustic exploration and enhanced recovery from old items)
Friday, April 15, Appartamento Lago, via Brera 30
10:30 to 13:00, Presentation Project Bicyclops
, Sonic Furniture (Paul Lupotto, Gadi Sassoon, Roberto Vernetti): ideas to support strategies for sustainable urban mobility
12.00-13.00, John Scafuro, Forkeat
, creativity applied in support of change, or do more with less
17:30 to 19:00 hours, New Consumers
in the city eco-positive meeting with Cristina Gabetti.Partecipano the debate Sandro Antoniazzi (Cockaigne House), Gianandrea Barreca (Group A12), First Barzoni (Palm), John Falsina (SEA Milan Airports)
John Lanzone (Domus Academy), Liliana Merlo (Federcasalinghe), Francesco Morace (Future Concept Lab), Lucia Moreschi (Defence Movement of the Citizen), John Petrini (Fa 'the right thing), Cristina Rapisarda Sassoon (Milan Green Festival)
19:00 to 22:30 hours, Milan Green Party